Biographic Sketch of the Ministry of Daniel Solberg
Daniel Solberg has served as the eighth Pastor of Saint Paulus Lutheran Church since November of 1999. During the years of his leadership Saint Paulus has transitioned into a congregation that is remarkably prepared for the new work of missions in urban America and is poised on the threshold of progressive and creative ministry for the 21st century.
Solberg is a third generation Lutheran pastor, preceded by his father, Richard and his two grandfathers, C.K. Solberg and Byron Nelson. He was ordained in 1975 into the Lutheran Church in America having earned a M.Div. degree from the Divinity School at Yale University. Pastor Solberg served congregations in the Pittsburgh, PA area starting in the small depressed mill town of Donora, continuing in New Stanton, the site of the first VW Assembly Plant in the US. Solberg worked to establish an industrial chaplaincy in the plant itself and in neighboring UPS and Robert Shaw facilities.
Having received a call to serve in the suburban North Hills of Pittsburgh at Nativity Lutheran Church, Solberg proceeded to expand the congregation's membership by 40%, gaining recognition as the fastest growing congregation in the Pittsburgh area. He also served on the governing body of the Executive Board of the Lutheran Synod – the youngest to hold such elected position – and chaired a capital campaign in support of the synod's outdoor ministry camp.
During the late years of the 1970s, massive changes in the economic landscape of Pittsburgh, engineered by a disinvestment policy of major banking and corporate interest in Pittsburgh, put thousands of steel workers and supporting service workers in the unemployment lines of the Steel Valleys around Pittsburgh. Their cries were muted by the powerful of Pittsburgh who used the opportunity to refashion this historic labor union stronghold into an "upscale" corporate city. Pastor Solberg, along with others pastors and congregations, heard the cries, engaged the sufferings, and ministered as best as possible. The social tragedy was more than local churches could handle, and so efforts were made to engage the powerful of Pittsburgh to help in this crisis. When these efforts were rebuffed, Solberg and these other pastors and congregations, along with affected labor unionist began an 8 year campaign to "prophetically" speak and enact the call for justice and remediation for the tens of thousands of victims of economic disinvestment.
In the course of the struggle, Solberg was fired from his suburban congregation, served nearly a half year in prison for related actions, defrocked by the Lutheran Church in America in 1986, and ending up serving illegally (without credential) a congregation in urban Pittsburgh, East Liberty Lutheran Church. You can watch 'The Fighting Ministers' documentary for the entire story. For eight years, Solberg ministered as an associate pastor at East Liberty. Because of the economic burden on this small urban congregation, and needing to provide security for his wife and five children, Solberg applied for reinstatement to the church which defrocked him, this he did twice having been denied even a hearing on the first. After second request, the church gave Solberg a hearing, whereupon he was required to relocate from Pittsburgh and undergo a series of readmission requirements. Solberg found himself in the Bay Area of San Francisco, having received a warm welcome from both the Lutheran Seminary in Berkeley and the local Lutheran Synod. He became the pastor of Christ Lutheran Church in San Lorenzo in late 1994. He led this congregation into significant community engagement establishing a community food pantry, a neighborhood wide flea market, an after-school program, and collaborative ecumenical involvement with its neighbors.
In 1999, Pastor Solberg was asked to pastor the historic 140 year old congregation of Saint Paulus Lutheran Church, San Francisco its eighth pastor. The declining urban congregation had suffered the tragic loss of its iconic church building in 1995, and was seeking a vision and direction for the 21st century. The call issued to Solberg was to lead the congregation into a renewed mission in the urban center of San Francisco. The years since Pastor Solberg has served the congregation there have been dramatic developments, largely due to the willingness of the congregation to faithfully wait and test and hear the movements of the Spirit within its congregational life. An entrepreneurial venture to establish an Alzheimer's facility, however, failed when HUD at last moment retracted its promised financing bringing to an end a highly anticipated and significantly funded project. The effect was a wrenching soul searching time of reflection. With but a whisper of hopefulness, the tattered congregation once again committed itself to mission. A revised development direction was embraced, a contract was signed with a well-respected developer, but this too ended, this time in the Great Recession of 2007, the developer was overwhelmed and declared bankruptcy.
On Pentecost Sunday 2008, Pastor Solberg led Saint Paulus in a bold move. The church left the safety of its home base, walked four blocks down Eddy St. and set up an itinerate ministry in the Fillmore district of San Francisco, an area that had been called the "Harlem of the West," but because of policy and development issues, had been forced into gentrification. Capitalizing on a relationship forged with St John Coltrane African American Church early in Solberg's tenure at Saint Paulus, the congregation worshiped in the Coltrane storefront and rented another storefront as its "business" office just off Fillmore St. During this time in Saint Paulus' ministry, Pastor Solberg coined and cultivated a self-designation as a "church without walls." Ministry was done in restaurants and civic spaces, the estranged residents of this gentrifying community became a focus of advocacy, and the doors of the congregation were wide open to mostly homeless and marginalized. Saint Paulus grew in its ministry experience untethered from "bricks and mortar."
With the convening of two dynamics, the first being physical growth of the congregation and the second being the disaffection of redevelopment forces to Saint Paulus' presence in the Fillmore, it became clear that effective ministry needed to be pursued in a new location. In 2013 after a significant renovation, Pastor Solberg led the congregation to a nearby, new storefront on Polk St. within a business intensive neighborhood, surrounded by high volume food and vehicle traffic. The move provided an opportunity to expand the diversity and character of the congregation.
Over the course of Pastor Solberg's leadership in San Francisco, great efforts have been made to enable collective ministry among the congregations of the area. As Dean of the San Francisco Conference regular text studies were sponsored, conference church interaction was fostered, even an invitation to financially underwrite an experiment in cooperation failed. But in 2011 Solberg joined with two nonprofit corporation which served the same population as Saint Paulus and created SF CARES, an independent nonprofit which coordinated the social outreach to the under-served of San Francisco. Since its inception, SF CARES has sponsored urban gardening efforts, Vision programs (free eye tests and prescription glasses), food preparation for hungry seniors and AIDS/HIV related support, among others. Over the course of the past several years SF CARES has welcomed into its partnership three additional congregations and has acquired significant associations in the public sphere. Finally, a cooperative success story.
After years of navigating the city's commissions, agencies and regulators, a development project inked and adopted in 2011 would return Saint Paulus to its original site at Gough and Eddy Sts., a ground breaking and long awaited feat. The deal struck was designed to provide much needed housing in San Francisco plus a 10,000 square foot commercial condominium that would be the new home for the congregation. This would come a full 23 years following the fire that destroyed its historic church building and in satisfaction of the call mandate issued 17 years earlier.
Many have fled the struggle, but for those who have endured and the many who have joined, all have been deeply blessed. It has not been an easy path, but it has been a discipleship road in and through which we have learned to follow God's lead. Among the plain fruits of Pastor Solberg's ministry the congregation has transformed its church spirit from a "bricks and mortar" focus to neighborhood engagement, its property holdings into both financial security and community housing, its perspective from a "lone ranger" church to a collaboration seeking community; its worship to include the lives of its participants and a deep abiding commitment to the poor and disenfranchised of San Francisco.
There are challenges ahead, but there are resources which have emerged throughout this past decade, both material and spiritual, from which greater works than these will arise.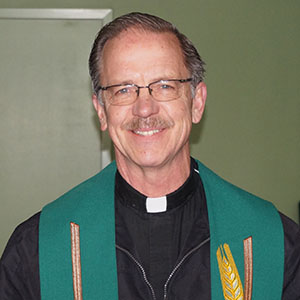 Personal Bio
Pastor Solberg was ordained to the Lutheran ministry in 1975 and has been the Pastor of Saint Paulus Lutheran church since 1999. Over the course of his 46 years of ministry, he served congregations in Donora, PA (Trinity), New Stanton, PA (St Mark), Allison Park, PA (Nativity), Pittsburgh, PA (East Liberty), and San Lorenzo (Christ). He was born and raised in Sioux Falls, SD, attended high school in Greenville, PA, earned his BA at Gettysburg College and his MDiv at the Divinity School at Yale University. Pastor Solberg is married to Barbara Robbins. In their 25 years of marriage they have raised five children and now enjoy a growing number of grandchildren. He has served as a member of the Executive Board of the Western Pennsylvania – West Virginia Synod of the LCA, Dean of the San Francisco Conference of Lutheran Churches and currently serves as President of SF CARES (a collaborative ministry organization assisting the marginal and under-served population of San Francisco). Pastor Solberg gained national notoriety from his involvement in the Denominational Ministry Strategy (1982 – present) when advocating on behalf of unemployed Pittsburgh steel workers led to his dismissal from the ministerial roster of the Lutheran Church (1985). He was subsequently reinstated in 1994 and relocated to the San Francisco Bay area. In addition to his ministerial service, Pastor Solberg facilitates men's groups for Peace Creations, a domestic violence counseling provider for Alameda County, California.